Product Info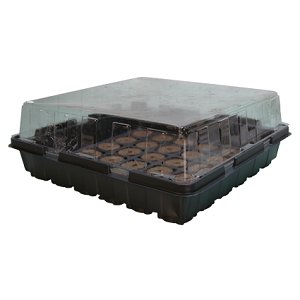 This product is currently $2.50!
Offer valid through 04-30-2018. Some restrictions may apply.
Manufacturer: Hydrofarm
Jump Start Pellet Greenhouse includes biodegradable coco coir grow pellets which snugly and securely help seeds germinate and root. Start a vegetable or herb garden right on your windowsill or anywhere else that is convenient in this reusable waterproof tray. Once your seedlings have established roots, transplant them and start over with new pellets and new seedlings or cuttings. The included vented dome maintains humidity and warmth, making it the ideal environment for fragile new growth. Jump Start Greenhouses are perfect for flowers, herbs, and vegetables and are also environmentally friendly when used with the included pellets.
Features:
Fast-expanding, earth-friendly biodegradable pellets
Reusable vented dome maintains humidity and warmth
Perfect for flowers, herbs, and vegetables
Reusable waterproof tray